Environment
More Trees
We love trees – we're in Sheffield and there are loads of them. But there's always room for more somewhere. So every month, we donate a percentage of our turnover (not our profit) to plant trees wherever the need is deemed greatest – improving some of the world's most denuded environments and providing work for the local communities working on the reforestation projects.
Every Pound Spent With Little Fire Digital Helps Plant Trees
There are others, but we use we use (more:trees) to manage our donations, select projects and manage the planting.
It is our ambition that we offset the lifetime carbon footprint of every team member. It's a big ask, and heaven knows it isn't enough, but until we think of something better, this is what we'll do.
Community
Sheffield Tigers RUFC
Sheffield Tigers is one of the many sports clubs in the city of Sheffield doing great things for the community – it just happens to be our favourite. In addition to the senior men's fifteens, the club hosts a huge youth and juniors sections, an excellent women's team and the inclusive rugby club Sheffield Vulcans.
Like all organisations of this sort, it runs on love not money – but money is always needed. Whether it's donating Brevo (SendInBlue) credits to help with their email marketing or helping with fundraising, we always seem to be doing something. Here are another couple of ways in which we help …
sheffieldtigers.co.uk
Some time ago we built the Tigers their website.
It's fully content managed so that the volunteers at the club can manage the content, adding news and fixture information as they need.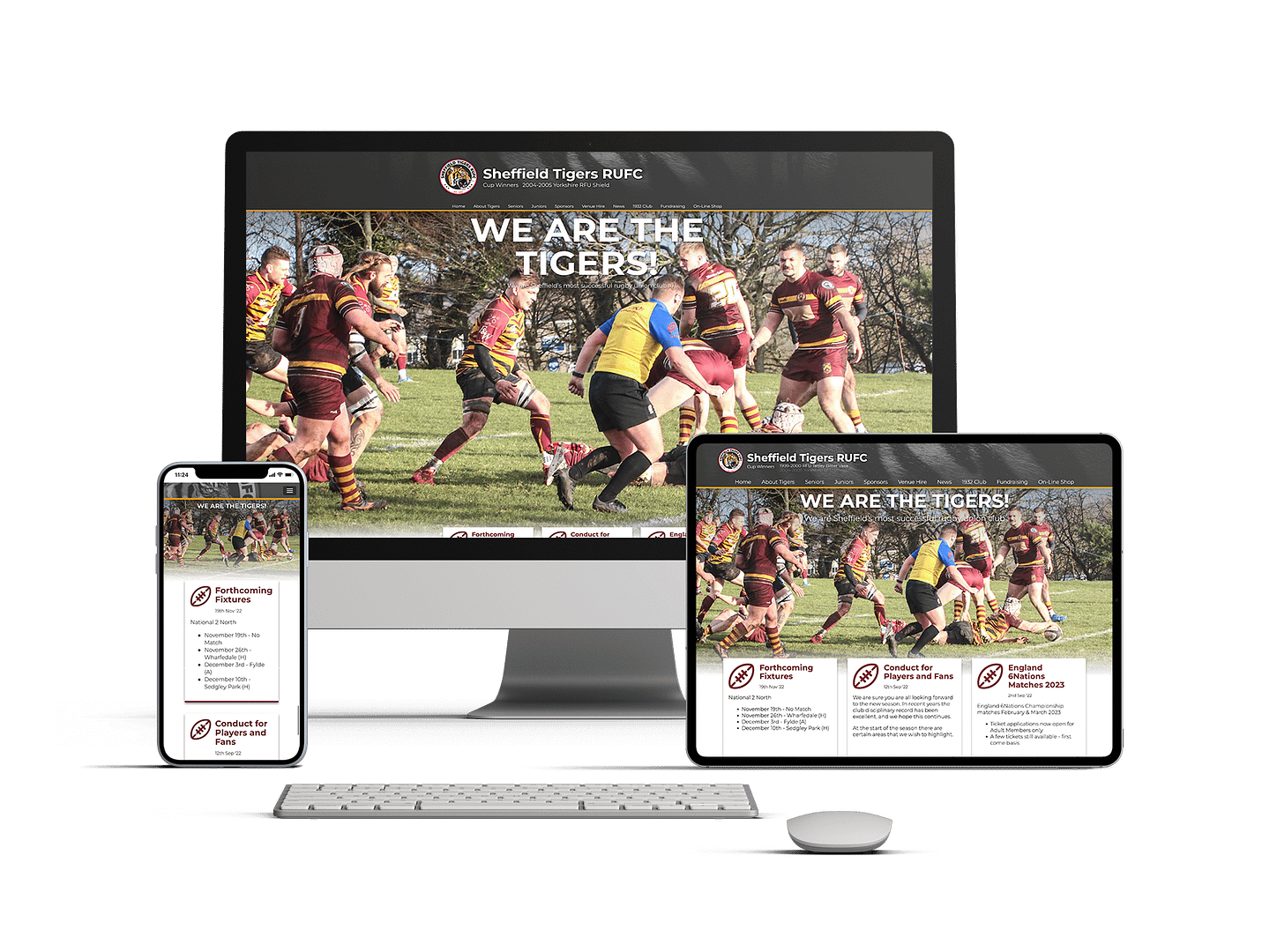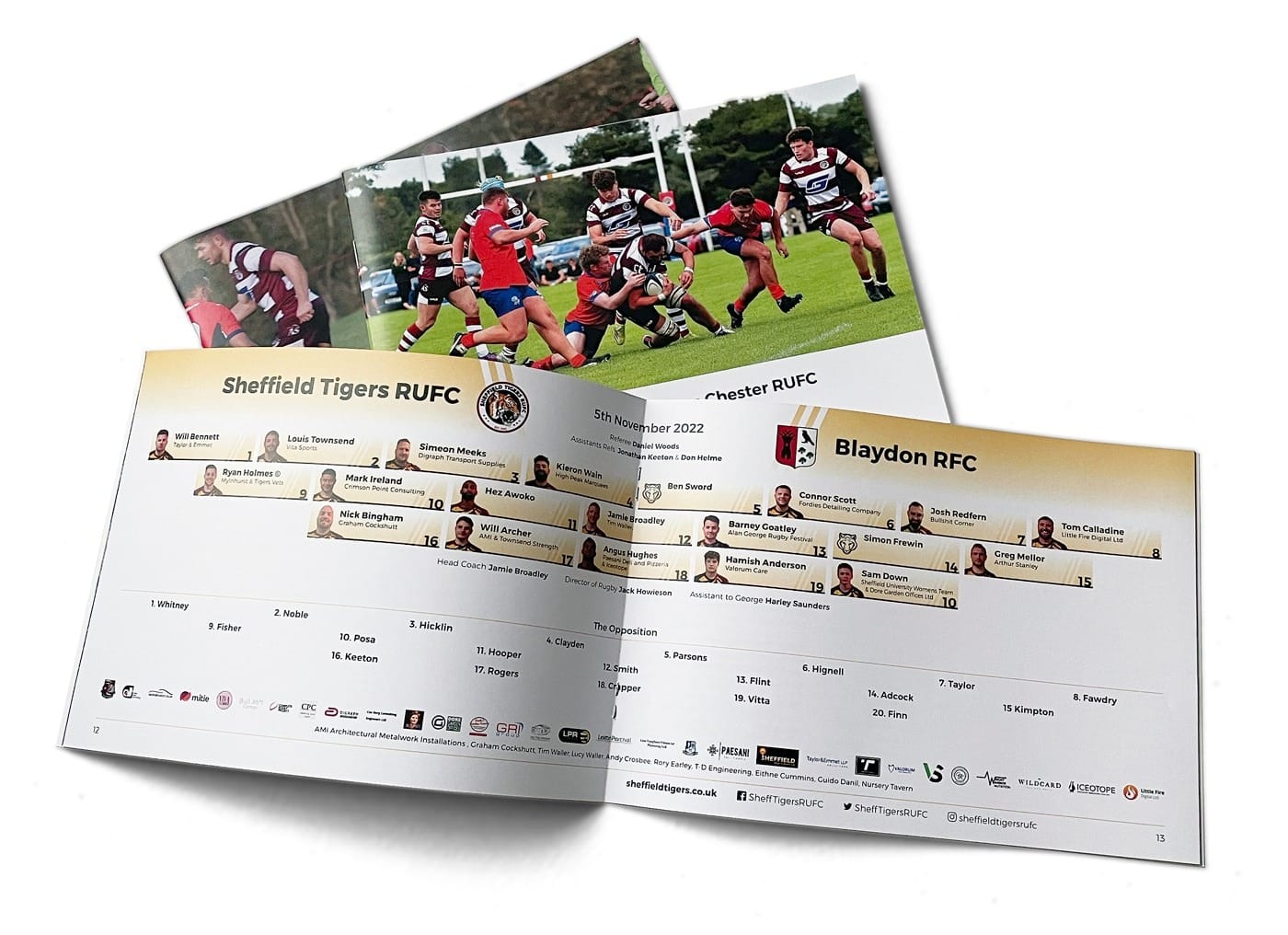 Programmes
We design and print match-day programmes for the club.
It is our ambition that these are the best in the league. It's a great point of pride for the club as visiting fans admire them.
We work with local printers, Mensa Print who help us meet the crushing deadlines.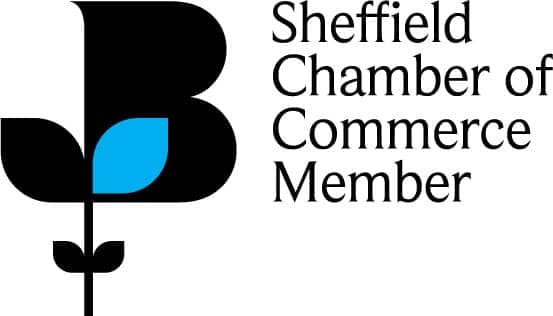 Some of us are native Sheffielders, most aren't. But it's a great place to live and do business. Wherever we were based, we would regard it as essential to be part of and contribute to the local economy.
We're just glad our base happens to be Sheffield.
We've always striven to ensure that as much as possible of the money spent with us stays here, locally. It's hard to do in the global world of the internet, but we do what we can and it is factored into every buying decision.
We're members of the Sheffield Chamber of Commerce and seek to be active members of the local business community.